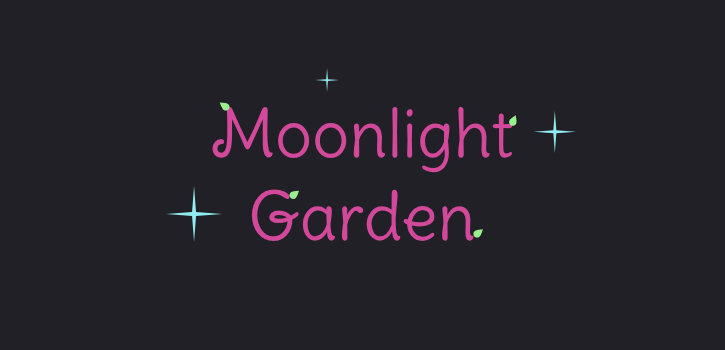 Moonlight Garden
Dev Diary : Cabin Update #1
---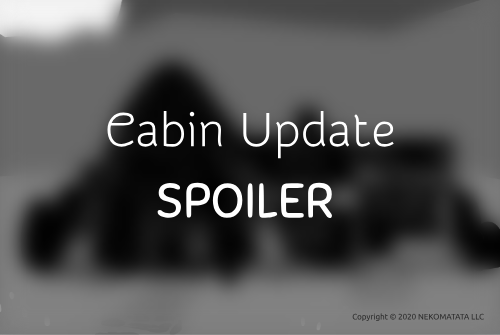 Hey everyone,
Torri here with an update!
If you want to keep the final cabin a surprise for yourself - be warned - there be spoilers ahead. In this post, I'll be giving a behind the scenes look at the process for building the cabin - the newest addition to the game. Special thanks to those who have contributed so far and made this thing happen.

Brainstorming
The inspiration for the shapes in this sketch come from some a-frame shaped cabins / cottages that I've seen in (live action) movies recently. A-frame cabins are pretty cool. An image search will lead you right into some beautiful architecture. I wanted a good excuse for ivy to creep up the sides of the cabin to reflect how the house and owner coexist with nature. The roof of an a-frame cabin sits right on the ground which is great for this.

Sketching: Starting With Silhouettes
There are endless ways to sketch out an idea - using lines & contours or shapes & values are two popular methods. I tend to depend heavily on shapes and values when coming up with ideas. I start with big basic shapes or chunks, and then work my way down to drawing details.
Here's an example of what I see in my mind when drawing. Big shapes are red, medium are yellow, and small are blue. Shapes are balanced to taste: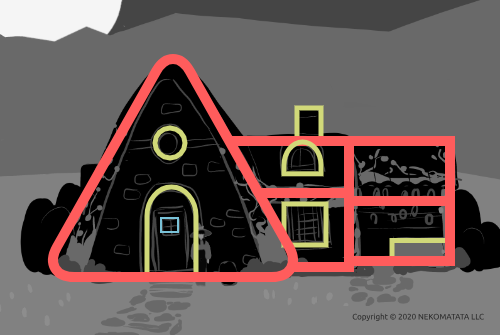 Once I'm happy with the balance, then I add details and I'm done with the sketch: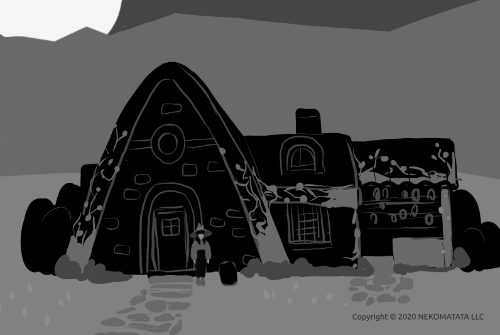 You may have noticed that this sketch is drawn in black & white. And that the house is very dark - basically black. This is on purpose. I turn off colors for three reasons. It eliminates color as a distraction, it makes sure that all shapes are readable, and it makes sure that my work will be enjoyed properly by people who are color blind (which counts for a lot more people than you might think). The house is dominantly black at the moment to make sure that it has a strong silhouette against the background elements.

What 's Next?
I may do another detail pass, and a sketch of the house from the side depending on how ready I feel. After a good night's rest, my mind might have worked on the idea on the backburner. In that case I may just jump into modeling next.
---
Thanks for tuning in - we hope you've enjoyed the insights and update. More to come!
Team Nekomatata